Add adjustable 1/2" NPT upper ports to your brewing equipment instantly.

No cutting or welding required!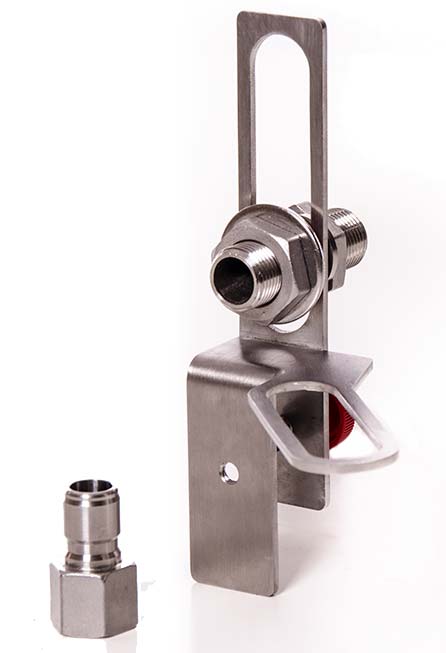 Get Yours Today
Laser cut from 100% USA 304 stainless steel, The Hangover® securly attaches to your brew vessel to safely connect attachments over, on, or in your brewing vessels. Whirlpooling, sparging, mash recirculation, and more are now readily available to any brewer with any type of equipment!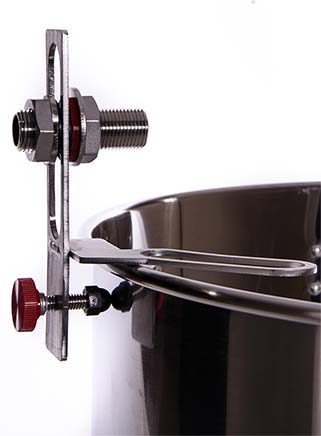 If you are a brewer wishing to take advantage of the advanced techniques above, you typically have 3 choices:
Upgrade to much more expensive equipment.
Attempt to drill a hole in your kettle and risk damage or user error (ouch).
Send your kettles out to custom fabrication shops for ports to be added. This can take a long time as many shops are backed up or the process simply takes time in general.
With The Hangover®, new NPT ports can be attached in seconds, not weeks. Best of all, if you upgrade your gear or need an extra port in an unexpected location, just detach The Hangover® and move it to a new location or vessel. Elegant, simple, done.
A Whirlpool Arm Gives Your Brew Day A Spin!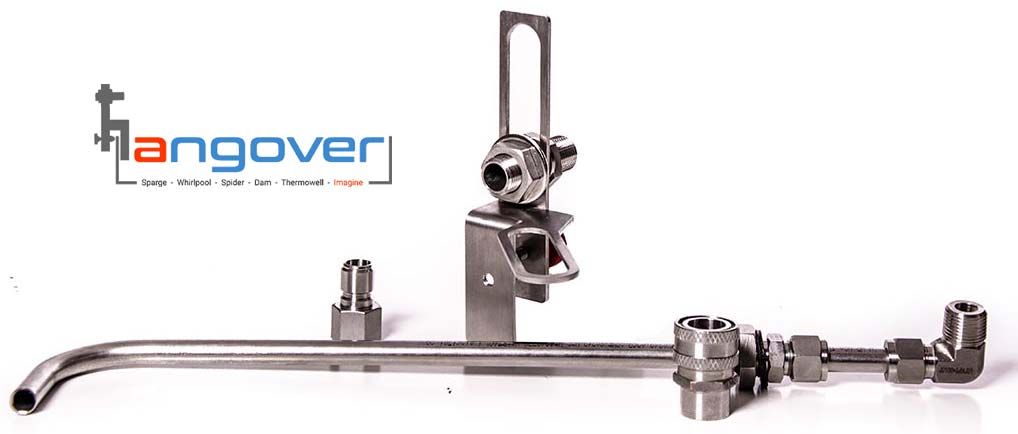 The explosion of IPA's over the past years is a testament to the incredible flavor combinations that have been obtained by brewers seeking to gain more from their hop selections and techniques. One of the most popular additions to breweries over this same time period has been the whirlpool arm. Originally whirlpools were used to push sediment to the center of your kettle and avoid trub from entering the fermenter. However brewers quickly discovered much more interesting uses when attempting to fully maximize hop flavor and aromas in their beer.
By continually recirculating wort in a vortex fashion, brewers found that a whirlpool arm can positively impact the beer's flavor profile at various temperatures. By providing more surface contact to hop material when passing over and through wort during the constant agitation of a whirlpool, modern dank IPA's were born! For explosive hop flavors the whirlpool arm has become a standard in any IPA lovers brewhouse.
With a Hangover®, whirlpooling becomes an easy addition to your brewery. No need to buy new vessels or spend time and money making additions to your kettles. Simply attach a Hangover® and whirlpool arm to your kettle.
Finally, being fully adjustable, you can completely control the depth and angle of your vortex. This allows you to use the attachment in kettles ranging from 5 gallon all the way to 1 barrel sizes.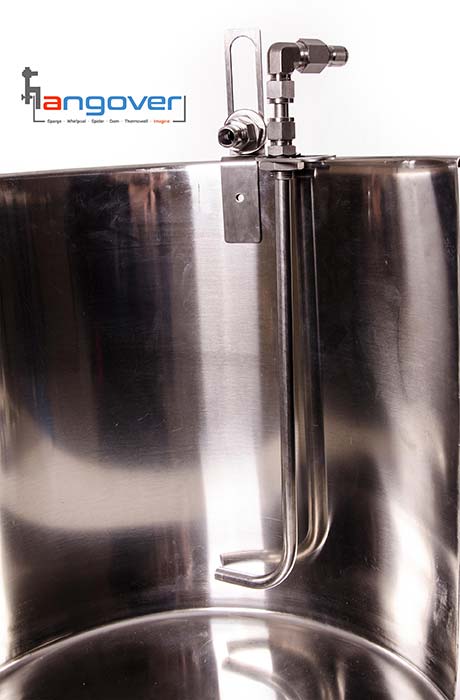 Pick Up A Whirlpool Arm Here
Sparge Your Brains Out With A Simple Attachment!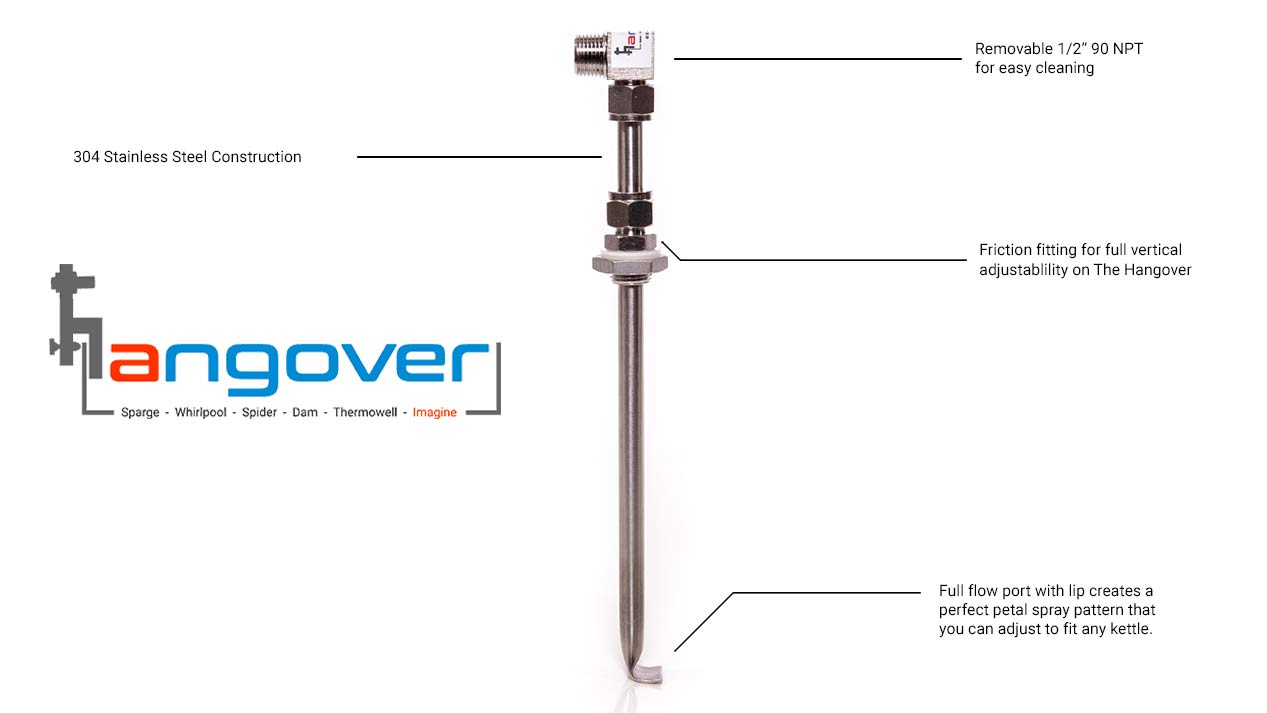 When taking the leap to all grain brewing, sparging becomes an inevitable part of your brew day. The sparge is an age old old process of rinsing your grain after the mash to obtain the highest concentration of sugars in your wort and is an important factor in maximizing brewhouse efficiency.
Throughout history, homebrewers have attempted all kinds of imaginative ways to effectively keep the recommended inch of water over their mash during this process. From hoses attached with duct tape to expensive upgrades to their mash tuns, solving this issue has always been up to the brewers imagination or their wallet.
Now, with the help of a sparge arm for the Hangover®, the sparging process is safely secured, easy, and repeatable. No worries of falling hoses or hot wort spraying all over your brewery (or you), and no regrets when upgrading to a larger tun. Our sparge arms are easy to move around and adapt to just about any size vessel.
Made from 100% certified safe Stainless Steel, our fully adjustable sparge arms will last for years. Each arm comes complete with easily removable fittings, so unlike many other arms, ours are easy to clean with few simple strokes of a brush. Rinse and repeat, you will love this addition to your brewery!
Check Out our Sparge Arm
Keep Your Fermenter Clean with With A No Mess Hop Spider!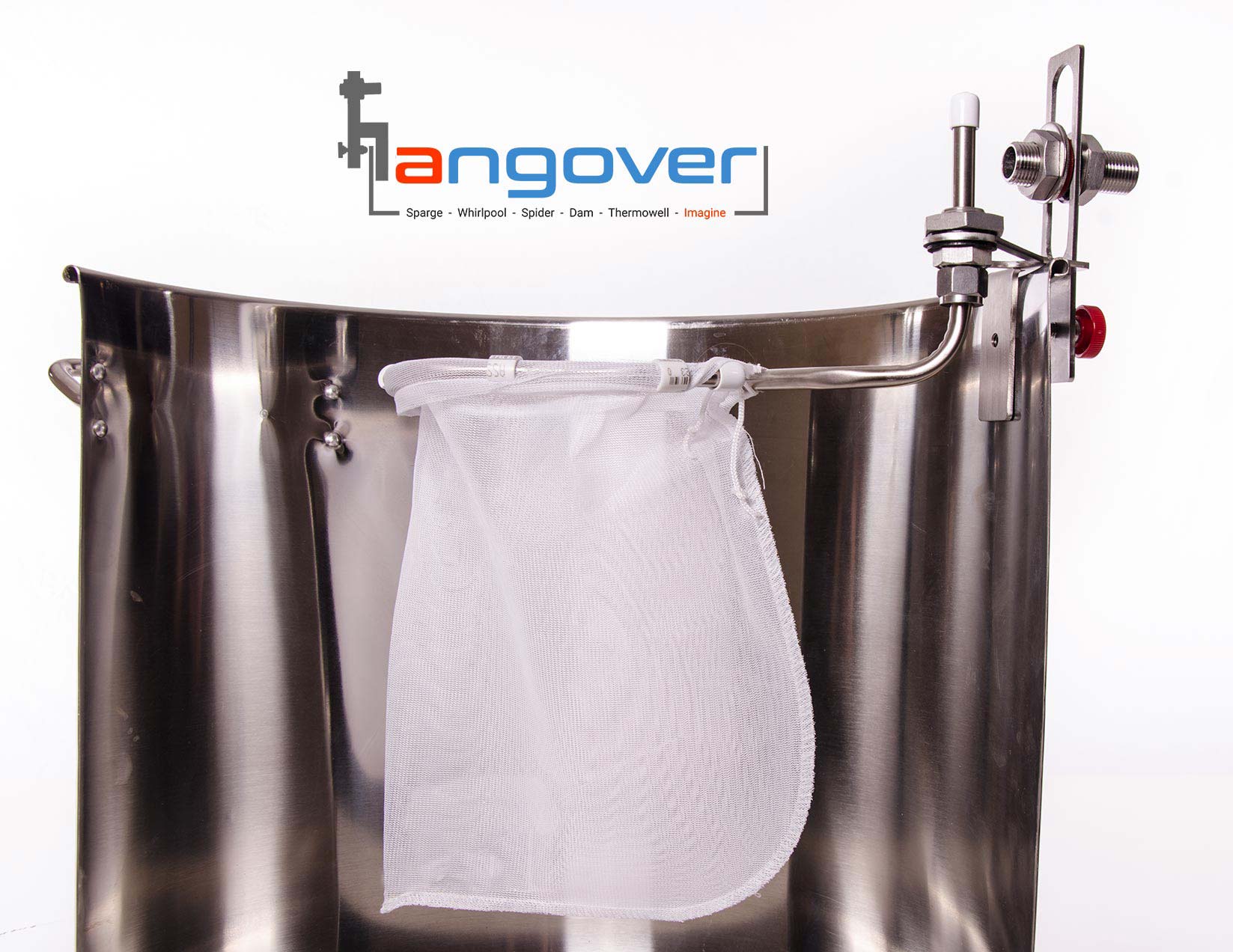 As brewers, we all have to make a choice when adding hops to our boils. Do we chuck them into the kettle and deal with the mess? Or, do we use a hop spider to keep the material contained while extracting only the precious oils and aroma we desire into our wort?
Nowadays it seems that many of us are becoming aware to the possibility of flavor differences due to excess hop and break matter getting into our fermenters. For those of us that have decided a hop spider is the way to go, the majority of hop spiders on the market are large, bulky, and frankly do not do a good enough job to warrant the high costs.
We set out to remedy this issue by building an exclusive component for the Hangover®. Using tubular 304 stainless steel or hardened copper, we created an adjustable framework that attaches to your Hangover®. This system allows you to position and suspend a re-usable and easily replaceable fine mesh bag into the center of your boil. No more bulky spiders on the side of your kettle that affect your whirlpool, leave a mess, or are hard to clean! Only clean, simple, hop infusions!
Stop Trub & Hop Matter With A TropStop™ Dam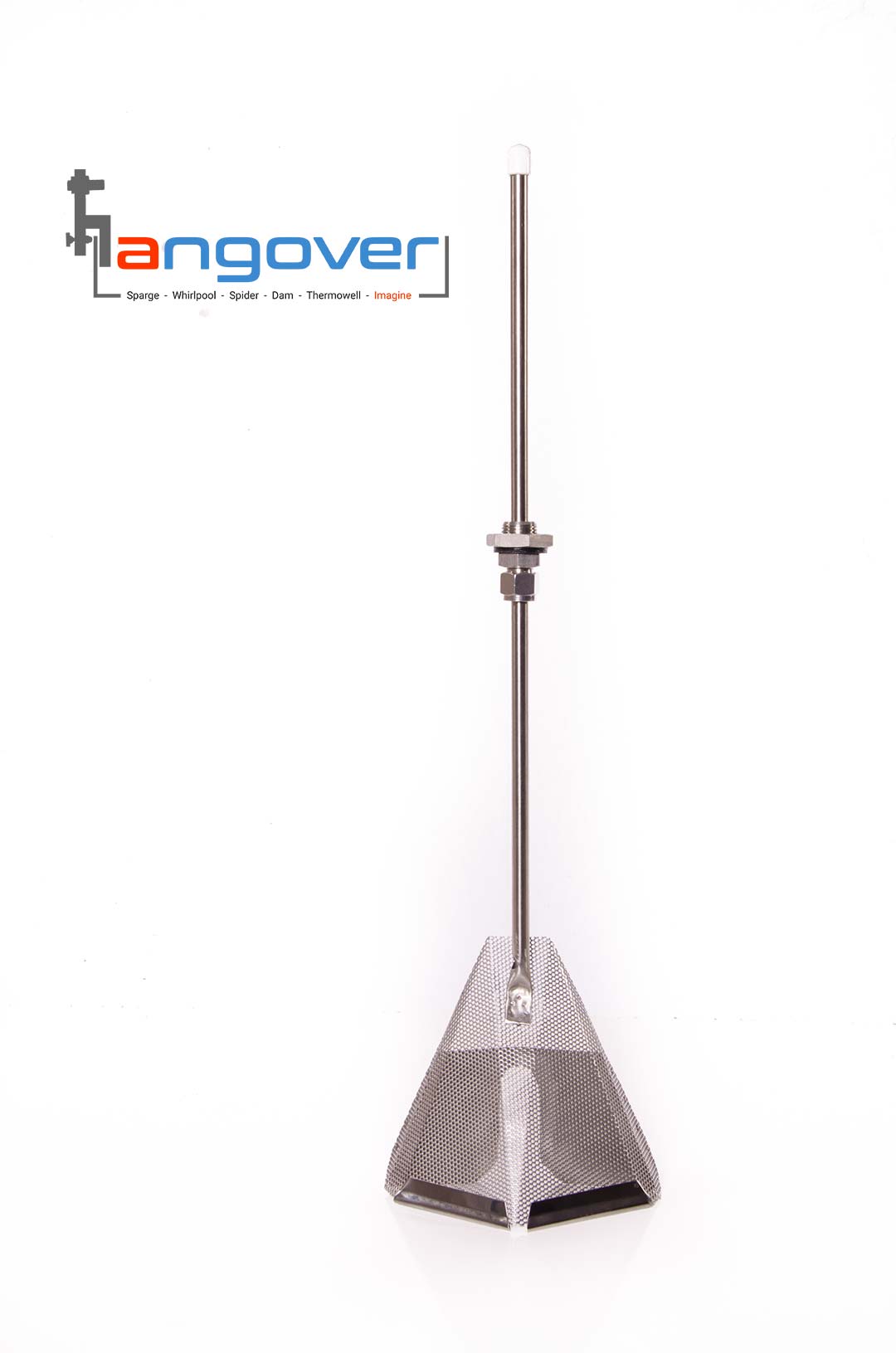 Finally a trub dam with wrap around protection to filter the massive amounts of trub and hop matter that is becoming the norm of today's craft brews! Made from 304 stainless steel, the TropStop™ is our solution to clearer fermenters and (in the event you purchased a plate chiller) non clogged chillers.
Another really great feature of the TropStop is that it was built to snugly fit over your dip tube or uptake ports. This gives the trub dam a solid connection to your kettle along with being firmly planted via the Hangover®.
Get A TropStop™ Here
Keep Your Temps Dialed In With A Thermowell

Temperature is critical when mashing or whirlpooling during your brew session. The more accurate your temps are, the better we can predict and repeat the final outcome of our beers. A deep thermowell is a perfect addition to any brewery allowing for faster and more accurate digital probes to be inserted deep in our mash or whirlpool during your session.
bruTools is proud to offer this adjustable thermowell for the Hangover® system! Made from 100% 304 stainless steel, this 16" thermowell is built to last. With it's 3/8" opening, it allows ample space to fit just about any size probe and it's large amount of adjustability make it fit perfectly into just about any size brewing vessel.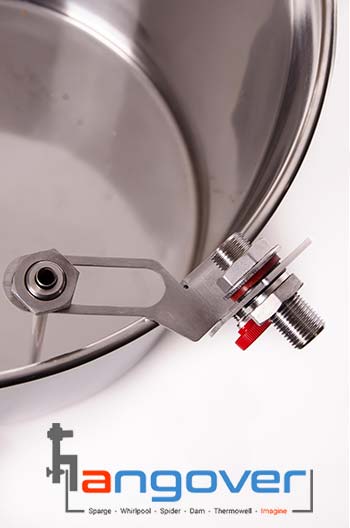 Get A Thermowell Here