Description
Exchilerator Brewery Wash is your go-to solution for a spotless brewery. Our advanced formula dives deep, targeting and lifting even the most stubborn grime from your gear. Whether it's dried grains in your mash tun, beer stone in your kettle, a krausen ring in your fermenter, or just any tough residue, this wash handles it all. Enhanced with powerful oxidizing agents, it ensures a comprehensive clean, leaving your equipment looking and performing its best. Simple, effective, and essential for every brewer.
But it's not just about powerful cleaning. Our formula ensures safety and sustainability. It's eco-friendly, crafted from 100% renewable materials, and biodegradable. It works equally well in both hard and soft water and is gentle on all your brewery equipment, ensuring no damage to plastics, rubbers, or metals, and even glass. No clouding of tubes, no hardening of seals, and absolutely no residue post a simple water rinse. We've meticulously developed this product, and its performance speaks volumes.
Our research and customer feedback consistently show that our formula is about 30% more efficient than competing products on the market. This means you'll use less cleaner each time, offering both cost savings and a reduced environmental footprint.
Cleaning With Exchilerator Brewery Wash:
Whether you're a seasoned brewer or just starting, maintaining impeccable cleanliness is paramount. Both hot and cold brewing equipment thrives with a systematic cleaning routine. Even a "boil" isn't enough on the hot side! Inconsistent cleaning might work short-term, but it risks infections and off-flavors later. Here's a glimpse of how our brewery wash works:
Small Equipment: For those without a Clean in Place (CIP) system, begin by disassembling your small brewing equipment for a thorough soak in hot water mixed with our brewery wash.
Boil Kettle: A hot soak with our wash usually does the trick. For stubborn spots, a soft sponge works wonders.
Chillers: Depending on your chiller type, a hot water rinse or a cycle with hot water and our wash ensures optimal cleanliness.
Fermenters: Regardless of its type, a hot soak with our wash post every batch is recommended. For larger fermenters, a Clean in Place (CIP) process using a spray ball ensures every nook and cranny is spotless.
Kegs: Disassemble and soak all keg components in hot brewery wash overnight. A subsequent soak in fresh water ensures no residue.
Full System CIP: For those with tri clover fittings, a true CIP process post-brewing is a time-saver. It involves cycling hot brewery wash through all equipment, ensuring thorough cleanliness.
At Exchilerator, we're dedicated to delivering the ultimate brewery cleaning solution. With our Wash, you're not just purchasing a cleaner—you're investing in a promise of unparalleled brewing cleanliness. If you're not completely satisfied, we'll refund your money. Discover the Exchilerator difference today!
Pro Review

Additional information
Weight
1 lbs
Dimensions
2.9 × 2.9 × 2.9 in
Size

1lb, 4lb, 50lb

EAN

1lb – 0745557349881
4lb – 0745557349171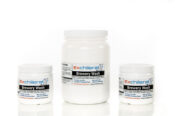 Brewery Wash
Your review
* Review is required
Email
* Email is required
Add photos or video to your review