Description
With 25 feet of co-helical wrapped copper tubing encased in our exclusive red shell, the Maxx counterflow wort chiller quickly cools up to 10 gallons of boiling wort to pitch temps in 5 minutes or less! We should also mention that it virtually never clogs, comes with a full 5 year warranty, and guarantees a cold break every brew day! This makes it the ideal wort chiller for brewing all styles of beer including (plate chiller clogging) New England IPA's. Using a Maxx counterflow wort chiller is foolproof, you can simply whirlpool hops and trub right through it! This is made possible through our exclusive coiling process and smooth bore copper that results in ZERO kinks or nooks for trub and hop matter to hide.
Cleaning is easy, simply flush the chiller with hot water after use and it's ready to go for your next brew day. If you prefer a deeper clean, try out our brewery wash, you won't be disappointed!
Every wort chiller we build is created with efficiency in mind to keep water usage at a minimum and save you money on your utility bill.
Click Here For Instruction Manual
Details
One of the most effective wort chillers on the market
Chills up to 2 gallons per minute
Designed for up to 1BBL systems
Very easy to clean and sanitize
virtually never clogs when making hop-heavy beers
Comes with a 5 year warranty
Options
Additional information
| | |
| --- | --- |
| Weight | 10 lbs |
| Dimensions | 13 × 13 × 13 in |
| stainless | All 304 stainless steel versions of the Maxx wort chiller will take an additional 7 days to ship |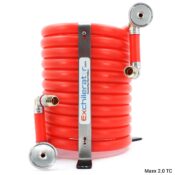 Maxx Counterflow Wort Chiller
Your review
* Review is required
Email
* Email is required
Add photos or video to your review